Love Language from Heaven
How God Demonstrates His Love Towards You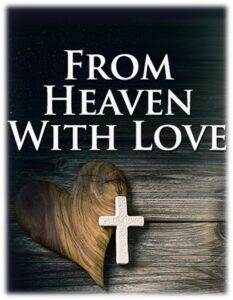 Scripture
1 John 4:7-8 Beloved, let us love one another, for love is of God; and everyone who loves is born of God and knows God. He who does not love does not know God, for God is love.
Thought for Today
Today is your reminder of God's immeasurable, everlasting love for you. He inspired a Divine love letter addressed to you reflecting the scope of its intensity. Nothing that will ever exist can separate you from His devotion (Romans 8:38,39).
The love of God is personal to each individual (Deuteronomy 32:10). His feelings intensify in times of your testing, just like an earthly parent. Yet, it can only be fathomed by those who know Him. The Apostle Paul understood that humans could only discern the extent of God's love by power from on high. In Ephesians 3: 17b-19, Paul wrote:
And I pray that you, being rooted and established in love, may have power, together with all the Lord's holy people, to grasp how wide and long and high and deep is the love of Christ, and to know this love that surpasses knowledge—that you may be filled to the measure of all the fullness of God.
We invite you to take time to study the topic of God's love for you. The reminders will bless you when you need them most. Scriptures are included below that reveal how much the Lord delights in His people. Add more scriptures to create a collection of His thoughts toward you. Declare them regularly over yourself and the ones you love.
How God Demonstrates His Love
1. God reassures you. You never have to guess where you stand with God. He speaks words of life that affirms His feelings of unconditional love. (Psalm 36:5, Jeremiah 31:3, Zephaniah 3:17, 1 John 3:1, Romans 5:5)
2. He gives generously. God owes us nothing; we owe Him everything! Still, He looks down at you and pours from a well that never runs dry. His pleasure is to endow you with only the best natural and spiritual gifts. (Psalm 37:4, Ecclesiastes 3:13, James 1:17, Matthew 7:11, Romans 6:23)
3. God left His Holy Spirit. God's love is manifest through the Holy Spirit who dwells within you. He is your Helper, Teacher and the One who gives you the power to hope. The Holy Spirit speaks the will of God to you and intercedes on your behalf. (Ezekiel 36:27, Psalm 143:10, John 14:26,Ro mans 5:5, Romans 8:26,27)
4. Eternal salvation is yours. In times of despair, hold tight to what God is saying through His merciful act of saving grace. You were born into sin, but the grace of the Holy God rescued your soul. He made a way to seal everlasting life and fellowship with Him in Heaven. He had your precious soul in mind when He put his only Son on the cross on your behalf. (Isaiah 59:20, Micah 5:4, John 15:13, Ephesians 2:8, Romans 7:24,25)
5.
God allows you access to His throne. The eyes, ears, and heart of God always remain open to your call. You have admittance to His presence every hour of each day. You are His dearly beloved, chosen, and His very own. He expresses His love in every breath you take. (Joshua 1:9, Psalm 23:4, Isaiah 43:1, John 14:27, 1 Peter 5:6,7)
Love is of God, and God is love. Live your life with the expectation of receiving His love each day. Learn the special love language He speaks that is found in the Word and listen for it. You may hear it as a shout through a dramatic miracle. He will also speak to you in a small, still voice as He did to Elijah. Somehow, He will let you know you have His heart at all times.
Time to Pray
Father God, words are not adequate to thank You for loving us while we were yet sinners. We lean on Your care. You never fail us. We ask this day that we remember to hold on to Your love through the times ahead, for we know not what tomorrow brings. But we trust that it will never cease, not now or through eternity. We praise and honor You in all things. In the name of Jesus…Amen