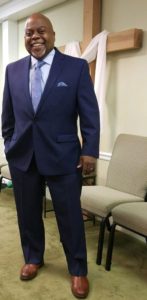 Joseph W. Jackson is Senior Pastor and Founder of The Lord's House Community Church, Norcross, GA. He accepted Jesus Christ as his Savior and Lord as a teenager at Morgan Park Church of God Chicago and began a lifelong relationship with Christ.
Pastor Joe is a bi-vocational pastor/spiritual leader who is also an accomplished leader in the Computer Information Technology industry.
He is actively engaged in several ministry and community efforts to transform the people that he shepherds, the community and the world in preparation for the second coming of the Lord Jesus Christ. He is passionate about preaching the Gospel of Jesus and The Word of God. He loves God with his whole heart, soul, mind and strength. He loves his family and is fully committed to:
loving and serving God and people
mentoring young men and women to discover their calling/gifts early in life and equipping them for excellent service to God, their families and their communities
winning people to Christ and training them to live according to God's Word and anchor their faith in Him preparing God's people for works of service to expand the body of Christ
The Lord's House is a Bible-based Christian church and ministry that God has commissioned to be "a family environment where God's love is shared, true worship is experienced, and people's lives are changed by the power of God." The church was founded January 5, 2003, by Pastor Joe & Minister Theresa Jackson as a part of the Georgia Baptist Convention new church development program. The church is incorporated as The Lord's House Community Church, Inc., a non-profit corporation in the State of Georgia. By God's power, the church continues to grow spiritually and naturally and is actively engaged in numerous ministries in the kingdom of Christ including extensive ministry to families, youth, community and global missions.
He serves as President of the Shaw University Greater Atlanta Alumni chapter and as advisor to the Shaw University National Alumni (SUNAA).
Pastor Jackson is a member of several community and civic organizations including:
Senior Pastor, Founder, The Lord's House Church Community
Founder, When I Became a Man – P.A.C.T. -mentoring rite-of-passage program for young men
Peachtree Corners and Norcross Pastors Association
UNITE! – Perimeter Church ministry of Gwinnett County churches
Norcross Cooperative Ministries
Gwinnett County Juvenile Court – Youth Diversion Program Panelist
North Fulton Community Charities
Georgia Baptist Convention
Pastors United in Battle (PUB)
Former Representative (Norcross, GA), The White House Office of Community Initiatives, U.S. Department of Education (Barack Obama Administration)