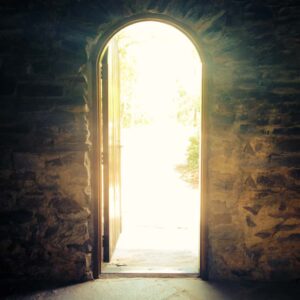 Jesus is the Open Door!
Scripture: John 10:7-10
7 Then Jesus said to them again, "Most assuredly, I say to you, I am the door of the sheep. 8 All who ever came before Me are thieves and robbers, but the sheep did not hear them. 9 I am the door. If anyone enters by Me, he will be saved, and will go in and out and find pasture. 10 The thief does not come except to steal, and to kill, and to destroy. I have come that they may have life, and that they may have it more abundantly."
Thought for Today: Jesus is the open door!
Think for a moment of the importance of doors in our everyday lives. They open and close; lock and unlock; provide or deny access; provide security and protection; separate and togetherness and other functions. When viewed this way, one can gain a greater appreciation for the doors that you encounter daily. In John 10, Jesus reveals a description of who He is by describing himself as "the door of the sheep."
Access: He vividly describes the relationship between the shepherd, and the sheep. He declares himself the door (the entranceway, access giver, gate keeper, protector, care giver) of the sheep.
Assurance: He assures them that He is the (Good Shepherd) that they have been waiting for and that all who preceded Him were imposters, in fact, thieves and robbers. He also subtly assures that they are now under His care because they have tuned their ears and hearts to His voice and were not deceived by others who had attempted to lure them to danger and destruction.
Abundant Life: Lastly, Jesus, the Great Shepherd, tells them that their obedience as sheep has spared them from being killed, stolen, or destroyed by the thief and that He has come to give them life and life more abundantly.
Will you allow Jesus, the Great Shepherd, to be your Door? Will you allow Him to be your Access, Assurance and Abundant Life! Tune your ears to His voice. Open your heart to His presence and establish your Faith in Him alone.
It's Time to Pray: Lord Jesus, You are my Savior and Lord. You are my Door. I come to You alone for Access, Assurance and Abundant Life. Thank you for being my Door to You and Your Kingdom!