21 Days of Prayer & Fasting
Day 1, Janaury 8, 2023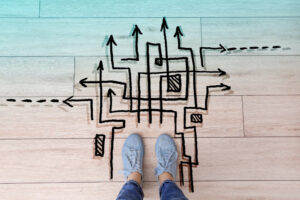 Where Will You Be in 2023?
Repositioning Your Life in Christ
Scripture:
Isaiah 43:18-19 – Remember not the former things, nor consider the things of old. Behold, I am doing anew thing; now it springs forth, do you not perceive it? I will make a way in the wilderness and rivers in the desert.
Luke 5:36-38 – He spoke a parable to them: "No one puts a piece from a new garment on an old one; otherwise the new makes a tear, and also the piece that was taken out of the new does not match the old. And no one puts new wine into old wineskins; or else the new wine will burst the wineskins and be spilled, and the wineskins will be ruined. But new wine must be put into new wineskins, and both are preserved.
Thought for Today
The start of a new year is an excellent time of deep reflection into our natural and spiritual lives. God consistently pours out fresh anointing for us to understand (and act according to) His Will. Use this season to pray, fast, and to study His Word more profoundly. Prepare for Him to move you into the exact position where you will fulfill your divine purpose according to His plan. Psalm 37:23 says our steps are "ordered by the Lord." Taking those steps requires movement, staying immovable in the past hinders your spiritual growth. As Jesus spoke in the above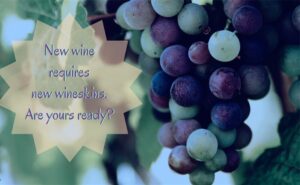 parable, old cloth sewn to a new garment damages the entire article ofcl othing. Likewise, new wine poured into an old wineskin causes it to rupture, wasting the wine and the vessel. Remain open to allowing God's help staying in synch with His latest mo
vements in your life. This will prevent you from trying to fit outdated processes int
o new assignments and blessings He has prepared.
Second Corinthians 4:16-18 states we become renewed from day to day. Further, the troubles we encounter each day work an "exceeding and eternal weight of glory." How is that possible? This miracleha ppens when you change the perspective of your heart and mind from former things into newness. God gives you the supernatural ability to focus upon His yet unseen blessings rather than temporaryaf flictions of this earthly life.
The face you saw in the mirror on the morning of January 1 looked the same as the night before. However, 2 Corinthians 5:17 says the old creation has gone and that those in Christ have become a new creation! This promise comes in the form of unimaginable benefits and blessings each day as seen from your new spiritual location. Starting now, allow God to move the refreshed version of you into new levels of spiritual greatness and joy.
It's Time to Pray
Father God, thank you for another season of renewal through prayer and fasting. Help us to listen for your guidance and direction. We desire to be where You place us. Remove the spirit of fear, procrastination, or distraction from our minds and hearts. May Your Holy Spirit prompt us to act on eachopportunity or assignment You present to us for the sake of the Kingdom. In the name of Jesus…Amen.