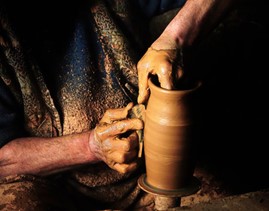 REASSEMBLING: The Potter Wants to Put You Back Together Again!
Transforming Truth from God's Word
God is reassembling His people in this season. He desires to heal you and make you whole. He will then develop and use you to help restore others. Will you place yourself in the hands of the Potter today and be made whole?
Jeremiah 18: 1-3
The Lord gave another message to Jeremiah. He said, "Go down to the potter's shop, and I will speak to you there." So I did as he told me and found the potter working at his wheel. But the jar he was making did not turn out as he had hoped, so he crushed it into a lump of clay again and started over.
A Psalm for Today
Psalm 34: 17-20 The Lord hears his people when they call to him for help. He rescues them from all their troubles. The Lord is close to the brokenhearted; he rescues those whose spirits are crushed. The righteous person faces many troubles, but the Lord comes to the rescue each time. For the Lord protects the bones of the righteous; not one of them is broken!
God's Promises for Today
Isaiah 57:18-19 "I have seen their ways, but I will heal them; I will guide them and restore comfort to Israel's mourners, creating praise on their lips. Peace, peace, to those far and near," says the LORD. "And I will heal them."
Isaiah 38:16-17 "You restored me to health and let me live. Surely it was for my benefit that I suffered such anguish. In your love you kept me from the pit of destruction; you have put all my sins behind your back."