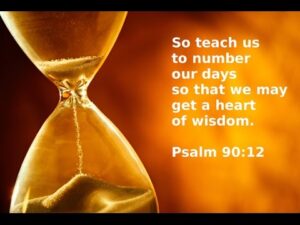 Teach Us Lord!
Scripture: Psalm 90

(A Prayer of Moses, the man of God)

NKJV
Psalm 90 is a prayer of Moses that encourages our hearts on how to pray. He is asking the Lord to…Teach me! Educate me! Enlighten me! Edify me! We too, should be asking the same of God in the midst of the pandemic, the negative impact of politics, protests, and our own personal challenges. We should cry out: Lord, don't let me waste valuable time. We desire to properly interpret "the signs of the times" so that we may gain a heart of wisdom.
Moses' Prayer in Psalm 90 enlightens us on how to communicate with God in prayer when confronted with internal and external situations that He has prepared us to handle. Prayer is direct communication with God and it is one of the lifelines for believers in Jesus Christ. Like the Lord's Prayer, (Matthew 6:8-13), this prayer can be used as a model on how to pray by acknowledging the preeminence, presence, and power of God.
Preeminence of God – Psalm 90:1-4
1Lord, You have been our dwelling place in all generations. 2Before the mountains were brought forth, Or ever You had formed the earth and the world, Even from everlasting to everlasting, You are God. 3You turn man to destruction, And say, "Return, O children of men." 4For a thousand years in Your sight are like yesterday when it is past, And like a watch in the night.
The Presence of God – Psalm 90:5-8
5"You carry them away like a flood; They are like a sleep. In the morning they are like grass which grows up: 6In the morning it flourishes and grows up; in the evening it is cut down and withers."
In verses 5 and 6, Moses meditates upon human frailty. He compares life to grass that withers. By contrast God Himself is "from everlasting to everlasting" (v. 2 ). He is God! While we live day by day, God lives in eternity, where a thousand years is as one day.
7For we have been consumed by Your anger, And by Your wrath we are terrified. 8You have set our iniquities before You, Our secret sins in the light of Your countenance.
Instead of playing "hide and seek" with God, which is part of human nature, WE MUST KEEP an open dialogue with God concerning our shortcomings. We must face our sins! (those secret sins or weights of life that causes us to fall short of the glory of God). Unconfessed sin hinders our prayers from being heard by God and keeps us from the fullness of life and joy that He desires for us. He knows our sins and in Jesus Christ has already provided your forgiveness.
The Power of God
Moses inquires of the Lord in verse 12 to teach us to number our days, so that we may gain a heart of wisdom. In conclusion, he asserts that in order for us to overcome our shortcomings, the Lord's power, compassion, grace and mercy is needed. (verses 13-15). As a result of our gaining and applying God's wisdom in our hearts, His miracles and favor will be available to us. Verses 16 and 17 continue: "Let us see your miracles again; let our children see glorious things, the kind you used to do, and let the Lord our God favor us and give us success. May he give permanence to all we do." (Living Bible)
It's Time to Pray: Please read Psalm 90 and personalize the prayer by substituting your name and by recognizing the preeminence, presence and power of God to transform your life to be pleasing to Him.