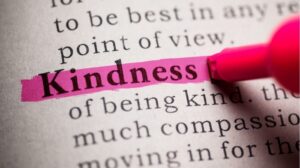 Kindness is the Key
Cultivating a Meek and Mild Spirit
Scriptures
Philippians 4:5 Let your gentleness be known to all men. The Lord is at hand.
Colossians 3:12-13 Therefore, as the elect of God, holy and beloved, put on tender mercies, kindness, humility, meekness, longsuffering; bearing with one another, and forgiving one another, if anyone has a complaint against another; even as Christ forgave you, so you also must do.
Thought for Today
You are alive during these perilous times by the Will of God. You daily see people at their worst behavior. Not a day goes by that you don't witness anger, rudeness, and dishonesty in the public sector. Undoubtedly, you have been personally affected or offended by someone else's behavior.
Second Timothy 3:1-5 says that in the last days, men and women would love themselves, have no natural affection, and engage in fierce behavior, among other traits. Verse 3 says they actually despise those that are good. As humans, our first instinct might be to retaliate. Truthfully, at times this might feel good. Getting even might even stop the person's bully tactics. However, as a Christian you must know the difference between retaliation and defending yourself.
While several notable people in the bible defended themselves, they used the Word of God as the basis for defending their ministry and God. Yes, there will be times when you have no choice but to take a stand and draw the line. Since you represent the Lord, you must do so as He instructs.
Remember that Peter's emotions got the best of him when they came for Jesus in the Garden of Gethsemane. Luke's account reads that Jesus knew what was ahead of him but asked the offers to let the disciples go free. In the heat of the moment, Peter drew his sword and sliced off the ear of the servant Maichus (Luke 18:1-11). Although Peter's actions arose from his genuine love for the Savior, it was not the Will of Christ. He healed the servant's ear immediately. He told Peter to put his weapon away and not to interfere with what the Father sent Him to do.
On the surface, defending the life of Jesus, who had done no wrong, seems a noble and even necessary action. However, Peter was under the authority of the purpose of God. All events went according to His Divine plan and could not be interrupted. You, along with everything you encounter, are also part of the purpose and calling He has on your life.
Of course, it is tempting to right wrongs and injustices with words or actions that cut as deeply as Peter's sword. It is hard to see and feel the sting of ungodly attacks toward you or your loved ones. God knows that we are dust and He has the answer to overcoming evil devices. Kindness is one of the mightiest weapons against hate.
Note Philippians 4:5 says to let your gentleness be made known to all men. Not just people that treat you kindly but also mean-spirited individuals. This doesn't mean staying in their presence and accepting aggression or abuse gently. The end of the passage in 2 Timothy, which describes their behavior, ends with "from such turn away" (2 Timothy 3:5). You may have to put some distance between you and the other person. Always pray to the Father for protection and a sound mind, especially during a confrontation.
God is always aware of what we face. In our human state, it is almost impossible to walk away when you're being lied on or insulted. The Word of God ensures you have the help to overcome these challenges. Remember, you are a follower of the example of Christ. As such, you will suffer as He suffered yet without sin. Expect to be tested and tried (1 Peter 2:21, John 13:16).
God knows you might react to injustice with anger sometimes (Ephesians 4:26, 27). He loves you and knows you want to please Him even when you're hurt and angry. He left His Word because He is well aware you cannot do it without Him.
We live in the evil day (Ephesians 6:13) and can expect more pressure from the enemy. Fight back mean-spirited aggression that comes your way using kindness, gentleness, and meekness. Read and memorize scriptures which remind you of the power of a kind word against wrath (Proverbs 15:1). Grow in faith and overcome the devil's works by pursuing goodness and gentleness (1 Timothy 6:11-12).
God's Word is perfect soil to cultivate a spirit full of kindness and joy. Study examples of how kindness prevailed and changed lives, like in the book of Ruth. Search for opportunities to see goodness in others. Be generous with your acts of kindness.
The Lord God sees and honors your obedience to Him (Hebrews 6:10). He showers you with rewards which include peace, increased faith, closer relationships, and better health. Most of all, when you work to maintain a life of goodness and kindness you store up treasures and eternal life in heaven.
Do not be overcome by evil, but overcome evil with good. -Romans 12:21
It's Time to Pray
Lord God, thank you for Your marvelous light in the darkness. Thank you for giving us victory over the effects of unkindness that may come against us. We pray for those who don't know Your goodness or why they behave in anger. Use us to show them Your better way by our example. In the name of Jesus…Amen.