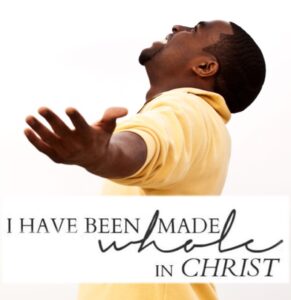 Beyond Healing to Wholeness: The Higher Calling!
Written by Sheila K. Watkins
Scripture: Luke 17:16-19
And one of them, when he saw that he was healed, returned, and with a loud voice glorified God, and fell down on his face at His feet, giving Him thanks. And he was a Samaritan. So Jesus answered and said, "Were there not ten cleansed? But where are the nine? Were there not any found who returned to give glory to God except this foreigner?" And He said to him, "Arise, go your way. Your faith has made you well."
The story of the ten lepers is packed full of sound biblical wisdom. In this familiar account, a group of diseased men cried loudly from a distance, begging Jesus to show them mercy. And no wonder – leprosy in bible times was an incurable, excruciatingly painful skin condition. Anyone with leprosy was left horribly disfigured and ostracized from among the rest of the people. Jesus did grant their petition, instructing them to show themselves to the priest. When they did so, they were cleansed (or healed).
Can you imagine the incredible relief they felt being pain free of the raw sores and blisters? Surely, they constantly looked at their arms in amazement, showing the new smoothness of their skin to anyone who (at last) came near them. But did they receive all that Jesus had to offer? Could more blessings been given them had they come back to thank the Great Healer? After the miracle, Jesus told the Samaritan his faith has made him well (KJV reads "…your faith has made you whole"). Wasn't he already healed? Yes he was healed of leprosy but was there more beyond the healing in store for him? According to Jesus, the man's faith raised him to a place past healing to completely well, or whole. What a life-altering event!
What about us? We all have countless testimonies in which God delivered us from horrible trouble in our lives. Patiently and lovingly, He pours spiritual, mental, physical healing – fresh mercies each day. He does not hold it against us when we have to return to Him, sometimes for the same issues. Therefore we are more than conquerors (Romans 8:31) in this world. With a grateful heart we thank Him each day; sometimes our gratitude brings us to tears. We don't neglect to worship, praise, and share His glory. But does He have even more for us? Is He waiting for us to take additional steps that will open more doors to His plan for our lives?
This time of fasting and prayer presents a wonderful opportunity to meditate on this possibility. Perhaps there are situations from which we have been healed, but what happened to us was so ugly (like leprosy) it is difficult to feel or exist in wholeness. Or could there be steps we can take that will put us into position for His higher purpose in the kingdom? We, like the Apostle Paul, can use this time to press in toward the mark for the prize of the high calling (Philippians 3: 13). And whether we "apprehend (v 12)" it completely or not, we have God's guarantee that by doing so with a pure heart we will be rewarded with more than we can ask or think (Ephesians 3:20)!
It's Time to Pray: Thank you Lord God for a constant supply of amazing revelation from your Eternal Word. We pray that we focus during this time of prayer and fasting and listen for an instruction that will bring us closer to Your perfect Will…In Jesus name, Amen!