In the Power of His Might
You Didn't Know Your Own Strength
Scripture
Judges 16:28-30 Then Samson called to the LORD, saying, "O Lord GOD, remember me, I pray! Strengthen me, I pray, just this once, O God, that I may with one blow take vengeance on the Philistines for my two eyes!" And Samson took hold of the two middle pillars which supported the temple, and he braced himself against them, one on his right and the other on his left. Then Samson said, "Let me die with the Philistines!" And he pushed with all his might, and the temple fell on the lords and all the people who were in it. So the dead that he killed at his death were more than he had killed in his life.
Ephesians 6:10 Finally, my brethren, be strong in the Lord and in the power of His might.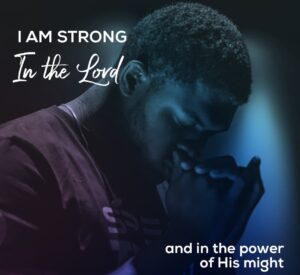 Thought for Today
Life is a precious gift from God, whatever each day brings. We are equally thankful to Him for theble ssings and challenges of each day. Some tests and trials seem overbearing. At times it feels like you can't go another step. Our Heavenly Father knows we get weak. Isaiah 40:29 tells us, He gives power to the weak and strength to the powerless. God promises He is always present to fortify us in the most troubling times (Psalm 46:1).
When he senses you are frail, the enemy tries to create doubt. He attempts to weaken your faith with attacks of fear and doubt. He tries to convince you that God has abandoned you to cause you to give up hope. Overcome his attacks with God's Word. There you will find many examples of people of God who received supernatural power just when needed.
Today, we will use the biblical account of Samson as affirmation that God never leaves or forsakes us. There are dozens of lessons we can learn from Samson's story. Let's look at how a few of his experiences can provide practical lessons for our lives in Christ.
1. Samuel's Life Had Purpose and Destiny
In Judges 13:5 an angel of the Lord told Samson's mother that she would conceive and bear a son. The angel said that he shall begin to deliver Israel out of the hand of the Philistines. In verse seven, the woman relates the story to her husband. She adds that the angel told her the child shall be a Nazirite toG od from the womb to the day of his death. God had a plan for Samson before he was conceived. In a moment of weakness have you ever wondered, like many, why you were ever born? Remember, God formed you – he knew you- before you your conception. Continue in His Word and prayer as He unfolds plans for you, including peace and an expected end (Jeremiah 29:11).
2. Samuel Had a Special Gift
Throughout his life, the Spirit of the Lord came upon Samson, giving him unparalleled physical strength. In Judges 14:15, 16, the Spirit came "mightily" upon him when he tore a roaring lion to pieces with his bare hands! Samson also killed one thousand men singlehandedly with the jawbone of an ass (Judges 15:14, 15) in addition to other miraculous feats. God endowed you with powerful gifts of the Holy Spirit. Never doubt that the Lord has equipped you with the power to use them! Seek His face for instructions to shred the roaring lion (1 Peter 5:8) in your life into pieces.
3. God Allowed Samson to Use His Gift Despite His Mistakes
Samson made repeated mistakes in his choice of women. He married a Philistine who betrayed his trust, although God used the relationship for His purpose. His connection to Delilah eventually ended in the loss of his gift and his life.
Judges 16:20-22 describes how she called a man to shave Samson's head after coercing him into revealing it as the source of his strength. He was taken away by the Philistines, who blinded and bound him. His enemies praised their god for delivering Samson to them. They did not know God was not finished with Samson.
Judges 16:22 reads, howbeit the hair of his head began to grow again after he was shaven. Think about the gravity of that statement as you remember what happened next. God had not forsaken him. They led Samson to the place where they could mock him. He prayed to God for strength, and his prayer was answered. His gift was restored for that moment in time. The entire arena came crashing down with one push.
Samson's story is similar those of Christians today. A good number have found themselves in unholy alliances with personal, business, or other relationships. Others have committed different sins in moments of weakness. The devil tries to convince believers that God has turned His back.
The truth is that a child of God is not stripped of their God-given gifts, according to Romans 11:29. Through confession and repentance, the believer can once again line up his Christian walk with God's purpose for his life.
God invites us to seek Him and His strength (1 Chronicles 16:11). He will never leave or forsake you. When you are at your most vulnerable, remember that your Strength is just a prayer away.
It's Time to Pray!
Lord God, You are gracious and merciful in all Your ways. Thank You for the outpouring of strength from heaven. Remind us to call upon You when we are weak and to have faith You will answer. In the name of
Jesus…Amen