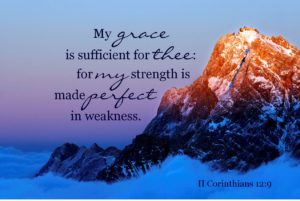 His Grace is Sufficient for You!
Scripture:

2 Corinthians 12:9
And

He said to

me, "My grace is sufficient for you, for My strength is made perfect in weakness." Therefore most gladly I will rather boast in my infirmities, that the power of Christ may rest upon me.
Life comes at us from many directions and dimensions. As the saying goes 'if it's not one thing, it's another'. As believers, we experience sickness, pain, suffering, grief, discouragement, conflict and other negative emotions due to the issues of life. At times, the challenges and struggles of life can become overwhelming. When we feel overwhelmed, we often withdraw and focus on the misery of our sufferings rather than allowing God's grace to fill and sustain us.
The Apostle Paul teaches us to know the sufficiency of God's grace in 2 Corinthians 12 when he reported that he was attacked with an affliction (a thorn in his flesh) mentally/spiritually by a messenger from Satan. After pleading with the Lord for three days to remove the suffering from him, the Lord said to him, "My grace is sufficient for you, for My strength is made perfect in weakness." Just when Paul needed it most, God showed the power and sufficiency of His grace to strengthen and sustain him. God's grace kept Paul from giving up. God's grace at work in Paul was more than enough to enable him to face his suffering and to abound to every good work.
It is important to understand that you are insufficient to face the challenges of your life without God's help. Your weaknesses and limitations provide the opportunity for God to supply His grace and help in your time of need. Know that God is more than enough to meet any need and to solve any problem that you have. Trust Him. He knows, cares and understands your circumstance. Allow His power to rest upon you. When you need Him most, His grace will carry you through!
It's Time to Pray: God of grace, no matter what I experience help me to receive your grace and your strength in my areas of weakness. Oh God, I trust You to pour out your grace upon me when I need You most because You are my sufficiency…in Jesus name, Amen!