Is Trusting God Beneficial?
Privileges of the Believer Is Without Number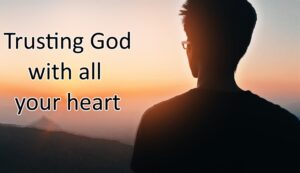 Scripture
Jeremiah 17:7-8 Blessed is the man who trusts in the Lord, And whose hope is the Lord. For he shall be like a tree planted by the waters, Which spreads out its roots by the river, And will not fear when heat comes; But its leaf will be green, And will not be anxious in the year of drought, Nor will cease from yielding fruit.
Proverbs 3:5,6 Trust in the Lord with all your heart, And lean not on your own understanding; In all
your ways acknowledge Him, And He shall direct your paths.
Thought for Today
How often have you asked yourself, Where would I be without Jesus? Christians often express their gratitude for Christ with this question. They know their lives would be a wretched mess if not for His saving grace. As a believer you understand that knowledge alone was not enough for you to receive salvation. You trusted His Word that by faith you are saved (Ephesians 2:8,9). You are one of His own, and He is yours.
Trusting God means you have deliberately committed to relying upon His truth and character. Yet,de pendence on God is not a one-time occurrence. It is a lifestyle of faith which remains in constant motion and has many moving parts. At the top of the list is a relationship with God. It is impossible to have faith or trust without it (Hebrews 11:6). Once you have established your relationship, you are free to build upon it and partake of all its benefits.
The scriptures contain an overabundance of privilege we receive by trusting in the Almighty rather than ourselves. Consider the legality of an earthly inheritance. Beneficiaries must accept the bequest in totality. Afterward, the will and testament becomes fully executed. Likewise, God tells us to trust Him with all of our hearts.
Habitual study of God's nature will help you maintain and increase your bond of trust with Him. Dedicate time today (and each day) to using the Word as a reminder of the Lord's priceless blessings. Praise God that there are no promises He doesn't keep. He never fails because all things through Him are possible (Luke 1:37). No human can claim this truth.
Search the bible for scriptures that remind you why you should consistently upgrade your level of trust in God. More than 25 godly benefits of God can be found in Psalm 103:2-19 alone. Allow scriptures like these to become trust-building exercises. Make the verses personal to what you've witnessed during your walk with the Lord. Placing each benefit in the context of your life experiences will cause you to bless the Lord with all your heart and soul.
We can never tally the benefits we receive from fully trusting the Lord. In Ezekiel 34:26, the Lord told His people, I will make them and the places all around My hill a blessing; and I will cause showers to come down in their season; there shall be showers of blessing. In other words, leaning on God releases ade luge of heavenly endowments.
Who can count the number of water drops in a rain shower? No mortal can accomplish such a task. However, we can appreciate the innumerable reasons to trust God. We encourage you to develop a regular regimen of setting aside time solely to ponder God's rewards. Marvel at the goodness He has prepared for you as a benefit of your trust (Psalm 31:19).
Commit your way to the Lord,Trust also in Him, And He shall bring it to pass. He shall bring forth your righteousness as the light, And your justice as the noonday. —-Psalm 37:5,9
It's Time to Pray!
Father God, we worship You as the Personification of grace and mercy. You alone can we trust in all matters of our lives. Only You reward us with benefits we do not deserve without Christ. Forgive us when we forget the magnitude of Your grace. Thank you for showing us compassion and remembering we are dust. We are grateful to You for saving our lives from ruination and our souls from destruction. In the name of Jesus…Amen