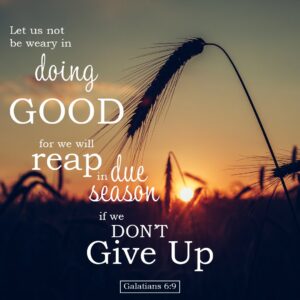 The Holy Harvest
Scripture: Galatians 6:9
And let us not be weary in well doing: for in due season we shall reap, if we faint not.
We are less than a week away from the end of the first prayer and fasting season of 2021. Like never before, we're seeing broken souls healed and new miracles revealed! Our God is speaking to us and through us increasingly each day as we commit this time to press in tighter for a closer walk with Him. The angels in heaven rejoice with us and God is pleased that His people are seeking His face. It's a spiritually rejuvenating season filled with purpose and promise. Hallelujah!
Equally true is the fact that the devil is on the sidelines waiting to attack, just as he did Jesus during His sacred time of prayer and fasting (Matthew 4:1-11). As followers of Jesus, we expect the same attempts to steal, kill and destroy our lives. Because our weapons are not earthly, but mighty through God (2 Corinthians 10:4), we have the victory just as Jesus does. Still, there's a reason the bible cautions against access weariness, even in well-doing such as fasting and prayer.
As humans, we have internal and external frailties that pull on our mortal resources. For instance, despite this time of fasting and prayer we still must attend to family and business matters, illness and other issues. Some of us have people in the home who are not fasting, creating the need to prepare extra meals. Families today have children in home school and many parents are working from home too, creating a complicated dynamic during the day to say the least. Our bodies will get tired. But the scripture cautions against becoming so weary that we faint (lose consciousness). When someone faints they become weak, unclear, or dim. As it relates to our spiritual journey, if we remain in such a frail state we run risks such as:
-Missing a special word from God during this time
-Giving the devil an opening to lie that you've failed or displeased God
-The inability to reap your harvest with complete clarity (if at all)
Imagine a hardworking farmer during an exceptionally challenging growing season. From the weather, finances and illnesses – everything seemed to go wrong. Yet he still carefully cultivated his fields day in and day out until eventually he saw signs he would have an extraordinary bounty at harvest. Finally the morning of the first harvest comes! He excitedly looks out of the window over his vibrant fields…then turns over in bed and goes back to sleep, too tired to reap the fruit of his long hard labor.
It's an unlikely scenario but can be used to illustrate the importance of asking God for the strength to keep us strong as we finish out this very special time. He's waiting to do it! Among the rewards we reap if we faint not include:
-The Lord (whom we love) is well pleased
-You are a witness of God to others
-Your trusting relationship with Him grows deeper
God started you on this journey for reasons personally set aside for you. Rely on Him when you get tired as you keep going forward. He will strengthen, comfort and provide for you. And if you faint not, you can be confident He will complete the good work He started (Philippians 1:6)!
It's Time to Pray: Thank you Lord God for Your favor while we press in to hear more from You. Keep us in a position of humility so that we may with gratitude reap whatever you have for us. In Jesus name…Amen!