Call to Order
How to Avoid Chaos and Confusion
Scripture
1 Corinthians 14:40 Let all things be done decently and in order.
1 Corinthians 14:33 For God is not the author of confusion but of peace, as in all the churches of the saints.
Proverbs 24:27 Prepare your outside work, Make it fit for yourself in the field; And afterward build your house.
Thought for Today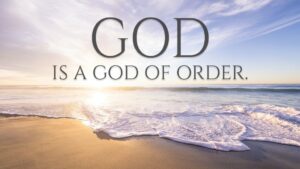 Like everyone else, your daily "to-do" list of tasks is exhausting, to say the least. Your order of the day probably includes items carried over from yesterday, last week, or even the more distant past. The responsibilities of life can threaten to overwhelm even the most organized person. As a Christian, The mandate of serving and pleasing God first adds even more accountability. However, the strength to dow hatever needs doing is yours as a believer in Jesus Christ (Philippians 4:3).
There is no escaping a whirlwind of activity with each new day. Inevitably, some things become misplaced, forgotten, or left undone. But a life of constant chaos leads to stress, to compromised physical and mental health. A life of endless disorder breeds confusion and stifles productivity. The entertainer and civil rights activist Lena Horne is quoted as saying: "It's not the load that breaks you down, it's the way you carry it."
In other words, how you tackle your tasks (even minor ones) can make or break your resiliency and success. This adage has a deeper meaning for Christians since we risk the temptation of carrying loads that Jesus is willing to bear. We often spin our wheels in frustration by trying to perform using our own strength. We must remain mindful that in Him we can bear much fruit – without Him, we can do nothing (John 15:4,5).
Reminders of the importance of maintaining order in all things fill the pages of the bible. God faithfully teaches us how to escape the trap of a confused mind. He invites us to commit our works to Him to establish our thoughts in an orderly fashion (Proverbs 16:3). As a loving Father, He provides patterns to follow to sustain order in our lives.
God revealed the perfect demonstration of orderliness in the story of creation of the heavens and earth. To the extent our finite minds can grasp, He details the process. From this, we can understand the magnitude of what thoughtful organization can accomplish. God methodically planned the timing of elements to work in harmony with one another (day and night, for example). Read Genesis the first chapter again to appreciate a Divine lesson in time management and creativity by design.
The account of Noah's assignment teaches us many things about the mind of God. In the days of Noah, humans had become so wicked that their every thought was evil. The corruption had permeated the earth to the extent God regretted making humans altogether. He was well within His right to eliminate their very existence.
However, God found favor in Noah because he was righteous, blameless, and faithful (Genesis 5:8,9). He made a way of salvation for Noah, his family, and all of mankind. He briefed the man chosen to assist with its execution. God also included the reasons for His actions. He followed up with strict instructions, from the greatest to the minutest detail. We are here today because of the power of the problem-solving, orderly, and detail-oriented proficiency of the Almighty.
Can you use assistance and reminders to get things in more order in certain areas of your life? The scriptures offer an abundance of guidelines to help you grow in this area. For instance, the preciseness of the instructions God gave to Gideon (Judges Chapters 6-8) is inspiring to read when you need to form a plan for victory. Another example is the intentional manner in which Jesus called the crowd to gather in an orderly manner before the miracle of feeding the five thousand. Allow God to order your steps. Perhaps, He has a miracle waiting for you. Positioning yourself in an orderly manner may allow you to see His plan.
This world, and everything that is in it, is under the power of the evil one (1 John 5:19). However, as a child of Christ you have been saved from the power of the evil one and the spiritual authority over the chaos and disorder in the world (John 17:14). The answer to debilitating confusion is found in the words penned by the Author of peace. Study them carefully to achieve clarity and direction in all areas of your life.
A man's heart plans his way, But the Lord directs his steps. Proverbs 16:9
It's Time to Pray!
Father God thank You for leaving no stone unturned when it comes to organizing our lives. We praise and honor You as the only wise God who is loving and gracious toward us. Teach us how to live in peace by following Your instructions for an orderly life that glorifies You. In the name of Jesus…Amen