High and Lifted Up
Sharing the Gift of Encouragement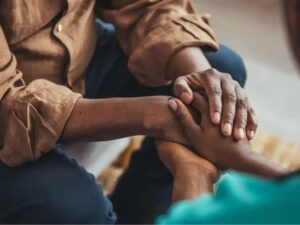 Scripture
1 Thessalonians 5:11 Therefore encourage one another and build each other up, just as in fact you are doing. (NIV)
Ecclesiastes 4:9-12 Two are better than one, Because they have a good reward for their labor. For if they fall, one will lift up his companion. But woe to him who is alone when he falls, For he has no one to help him up.
Hebrews 10:24,25 And let us consider one another in order to stir up love and good works, not forsaking the assembling of ourselves together, as is the manner of some, but exhorting one another, and so much the more as you see the Day approaching.
Thought for Today
Processing all the data contained in these demanding times is immensely challenging. Each day dawns with news of unprecedented world events, some of which affect us personally. In addition, a flurry of mundane chores to urgent crises invades our private lives. It is no wonder that encouraging others is sometimes placed on the back burner. More likely than not, the Holy Spirit has reminded you to extend yourself to others facing their own battles.
Encouraging, comforting, and supporting others reveals the gospel of Jesus in you. God supplies resources and gifts (2 Corinthians 9:10) for you to use specifically to give away to someone else. He knows the benefits we receive by pouring out to others. The Lord God works out all things for His good purposes, which includes opportunities to serve someone in need (Romans 8:28).
Charity at Home
A heart of compassion for others reflects His glory. Acts of kindness and service demonstrate this truth. Our benevolence starts with the people we see every morning. Encouraging members of our household should be a priority before we walk out of the door. We must practice being attentive and present to those we love the most. Each member needs to understand they can lean on the family for help and support. Following Jesus' example to love and respect others results in a peaceful and welcoming home environment that honors God.
Service in the Workplace
As a Christian employee or business owner, you know that your conduct is under close scrutiny. Of course, you are honest in your business dealings. You probably go beyond what's necessary to perform the work required of you. The Lord is pleased with your obedience in conducting business with integrity.
Remind yourself to also listen for (and act upon) areas that enhance the lives of your co-workers, including non-Christians. Although you might or might not receive financial compensation for the extras you do, rest assured the treasures which you store in heaven cannot be counted. A smile, a listening ear, or a needed prayer goes a long way to refresh a tired soul. Your kindness will not be forgotten.
Proverbs 22:1 says a good name goes beyond riches. When you give your gift of kindness in the workplace, you lift up your name as a valuable worker. Most of all, you raise the blood stained banner of Jesus. People view you as reliable and honest. You are considered a valuable asset to the company because you work and behave for the Lord and not for man.
Shining Light in the Church
Your brothers and sisters in the body of Christ go through the same tests and trials as you. Sometimes, a scripture or small kind gesture is the strength they need to make it through. Likewise, they need equal support when they are successful in achieving a goal or have some other good fortune. Are you willing to rejoice with them in their victories, regardless if you are waiting on God for your own breakthrough (Romans 12:15)? If so, make it a point to let them know they have your support. Sometimes, people go through challenging times alone because they don't know someone cares. Be sure to also celebrate their wins so they don't feel lonely at the top.
Be careful not to assume that everyone reacts or behaves alike. The body of Christ is made up of many types of members with different personalities and life experiences. (1 Corinthians 12:12,13). Some people are not willing, able, or used to giving or receiving help from anyone. A good number of men and women are uncomfortable with demonstrative gestures or they may be uneasy expressing their feelings in words. It is not uncommon for men or women to shy away from giving/receiving physical contact, like hugging.
Even though the church has many members, we are of the same spirit. The bible charges us to build up one another. We are bound by that mandate. Rather than giving up, let the Holy Spirit guide you who, when, and how to be of help. Seek His power in you to resist any feelings of offense. If nothing else, you can always lift up a person in prayer – with or without their knowledge. Obey the Word without expectation from others; the Lord will honor your service.
Physical Benefits of Kindness
Putting thought and action into being kind is just as much for you as the recipient. God also instilled physical rewards for acting upon what He compels you to do. These include:
Kindness reduces stress in the body, which improves emotional well-being and promotes joy.

Reaching out to help someone else creates and strengthens social connections, relieving feelings of isolation.

Knowing you can help someone increases self-confidence.

The act of uplifting is another is reciprocal. You create bonds with others, and you have support when you fall.
God provides everyone with something that will lighten another person's load. Make sure that supporting another person by some means is high on your list of priorities. Let the love of Jesus be your incentive to do to others as you want to receive (Luke 6:31).
Now we exhort you, brethren, warn those who are unruly, comfort the fainthearted,
uphold the weak, be patient with all. (1 Thessalonians 5 14)
It's Time to Pray
Father God, we give praise to You for endowing us with material and spiritual resources to uphold someone else. Create in our hearts compassion for others, just as You pity us. Open our eyes for chances to be loving and supportive to those in the church and out. We bless You in the name of Jesus…Amen