Planted! You Are a Tree Firmly Rooted in God
Scripture
Jeremiah 17:8 For he shall be like a tree planted by the waters, Which spreads out its roots by the river, And will not fear when heat comes; But its leaf will be green, And will not be anxious in the year of drought, Nor will cease from yielding fruit.
Psalm 1:3 He shall be like a tree planted by the rivers of water, That brings forth its fruit in its season, Whose leaf also shall not wither; And whatever he does shall prosper.
Proverbs 12:3 A man will not be established by wickedness, But the root of the righteous will not be moved.
Hebrews 12:28 Therefore, since we receive a kingdom which cannot be shaken, let us show gratitude, by which we may offer to God an acceptable service with reverence and awe…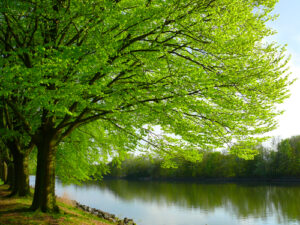 Throughout the Bible, God assures His people they are securely entrenched and established in Him. He frequently uses trees as a metaphor to symbolize a sure and resilient foundation for believers in the Lord Jesus Christ. The word "tree" is mentioned more than 280 times in several bible translations. More than 35 varieties of trees appear in the Old and New Testaments. Trees in the Word send clear messages of an outpouring of strength and security from God.
The scriptures in Jeremiah 17:8 and Psalm 1:3 are 2 of more than dozens of scriptures that mention trees planted by water. Why is this significant to the reader of the Word? Water is the ultimate life source for plants as well as humans. Trees planted near water receive a regular supply of refreshment and nourishment. They thrive and grow strong and sturdy because their root system is healthy. God has planted you in places where He will feed life into you. His supply never dries (Lamentations 2:22,23).
The Creator designed every tree species for a purpose. Some trees provide shade and beauty, while others produce fruit. Trees rooted near waterways offer a source of food and habitation to the area. They stabilize the banks and clean the water source. Like the tree, God guarantees that you continually yield the fruit of His righteousness. You were created for a unique purpose to be used by God (1 Timothy 2:21,22). Your destiny is firmly grounded in Him. He has prepared the season for your harvest.
God is faithful to His promises to love and keep you (Psalm 71:22, 1 Corinthians 1:9). He pledges th at adversity will not make you fretful; He will make a way of escape (Philippians 4:6,7 1 Corinthians 10:13).Therefore, you can be confident He will keep you in all your ways regardless of circumstances. Neither life, death, nor any other thing imaginable can prevent you from flourishing (Romans 8:38,39).
In contrast, the Word likens the ungodly to chaff, which is the inedible husk surrounding a seed. The winds of life sweep the ungodly away as worthless trash because they're not firmly rooted in place. Unlike your inheritance, the wicked will perish in their way. Your position in Jesus is solidly affixed. He knows your way. The Word is your water source that refreshes you when weary (Galatians 6:9).
Remain confident that you are seen, loved, and used by your heavenly Father. His Word is truth, and He secures your foundation within the pages. He keeps a steady grasp on your life in times of prosperity, famine, and seasons of joy and pain. Take comfort in his blessed assurances of victory and answers to your prayers. Follow His guidance and trust that He forgives you when you ask. Let your hope of salvation be a constant reminder that you are forever planted in God!
Those who trust in the Lord Are as Mount Zion, which cannot be moved but abides forever. Psalm 125:1
It's Time to Pray
Father God in heaven we honor the greatness of Your faithfulness. Thank You for steadying us when we are unstable. We trust You to keep us from stumbling. Let us not take your priceless promises for granted. Remind us to pray for those that live in uncertainty and to spread the Gospel to the unsaved. In the name of Jesus…Amen