Closer Than You Think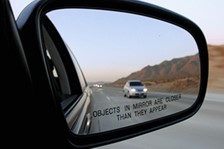 Scripture
Luke 19:41-44
Now as He drew near, He saw the city and wept over it, saying, "If you had known, even you, especially in this your day, the things that make for your peace! But now they are hidden from your eyes. For days will come upon you when your enemies will build an embankment around you, surround you and close you in on every side, and level you, and your children within you, to the ground; and they will not leave in you one stone upon another, because you did not know the time of your visitation."
Thought for today
The rear view mirror on the passenger side of every automobile has a statement printed at the bottom: "Objects in mirror are closer than they appear." The purpose of this statement is to warn the driver to be aware of objects beside and behind them before making lane changes and other maneuvers safely.
That warning is a reminder of a statement that Jesus made in Luke 19:44 when He stated: "because you do not know the time of your visitation". As He approaches Jerusalem, He wept over the city because of His deep concern for the spiritual blindness of the people there. He warned that they were unaware of the doom and destruction that would come to their city and to their lives. He warned that enemy nations would encase and surround them and conquer and destroy their great city and take their lives. But His greatest warning was that they had not accepted the opportunity for salvation.
In the busyness of life, the critical importance of salvation through Jesus Christ and living for him can be lost. God is reminding you and I to take seriously the forgiveness of sin and everlasting life we have received through our faith in Jesus Christ. Further, as believers Jesus commands us to "Go therefore and make disciples of all nations (people)…(Matthew 28:19). The opportunity for salvation has never been greater. The Lord is "not willing that any should perish, but that all should come to repentance" (2 Peter 3:9b). We must be in a state of readiness and share the gospel with urgency to give everyone we know and meet the opportunity to come to salvation through Jesus Christ, because the Day of Lord is closer than you think.
It's Time to Pray!
Heavenly Father, I confess to You that I have allowed the issues of life to cause me to lose focus on living in a state of readiness and sharing Christ with the people in my life. Help me to live for You each day with the urgency to share Christ with the people in my life. Thank You for reminding me that the Day of the Lord is coming quickly… In Jesus' Name – Amen