REPOSITIONED for Victory!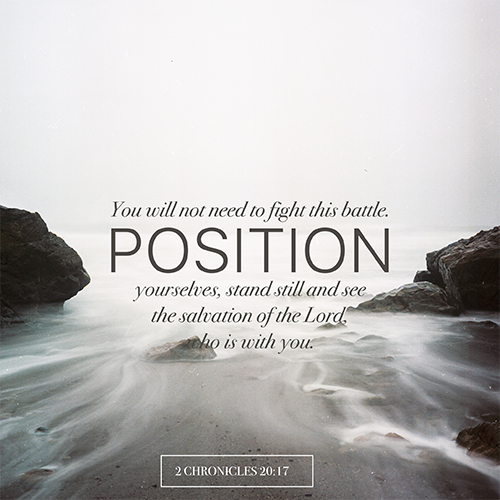 Transforming Truth from God's Word
When enemy nations came together to make war against Judah. The Spirit of the LORD spoke through His prophet Jahaziel to assure King Jehoshaphat that HE was with them and would protect His people, Judah. The LORD GOD had and unconventional plan for defeating the enemies of His people. HE essentially instructed Jehoshaphat to re-position the people of Judah, stand still and witness the Lord defeat their enemies before their very eyes. He further instructed them not to be afraid or distressed and to go out and face their enemies the next day and that HE would be with them. The LORD assured His people of victory over their formidable enemies without drawing a weapon.
Just as with King Jehoshaphat and His people of Judah, God desires you and I to draw faith, assurance and courage to trust Him and His Word in every circumstance of life, in every battle, we must know that the spiritual battle is far greater that the physical. When faced with impossible odds, we must know that God will fight each battle for us and He will always give us Victory though our Lord Jesus Christ.
2 Chronicles 20:17
You will not need to fight in this battle. Position yourselves, stand still and see the salvation of the Lord, who is with you, O Judah and Jerusalem!' Do not fear or be dismayed; tomorrow go out against them, for the Lord is with you."
A Psalm for Today
Psalm 20:1-2, 4-5
In times of trouble, may the Lord answer your cry.
May the name of the God of Jacob keep you safe from all harm.
May He send you help from His sanctuary and strengthen you from Jerusalem.
May He grant your heart's desires and make all your plans succeed.
May we shout for joy when we hear of your victory and raise a victory banner in the name of our God.
May the Lord answer all your prayers.
God's Promises for Today
1 Corinthians 15:55-58
"O Death, where is your sting O Hades, where is your victory?" The sting of death is sin, and the strength of sin is the law. But thanks be to God, who gives us the victory through our Lord Jesus Christ. Therefore, my beloved brethren, be steadfast, immovable, always abounding in the work of the Lord, knowing that your labor is not in vain in the Lord.
Your Points of Prayer
1.
2.
3.