Day 6 – JANUARY 13, 2023
UNDISPUTED CHAMPIONS!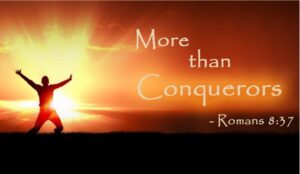 Scripture
Romans 8:37 Yet in all these things we are more than conquerors through Him who loved us.
Psalm 118:14-16 The Lord makes me powerful and strong; he has saved me. Listen to the glad shouts of victory in the tents of God's people: "The Lord's mighty power has done it!
His power has brought us victory—his mighty power in battle!"
1 Corinthians 15:57 But thanks be to God, who gives us the victory through our Lord Jesus Christ.
Thought for Today
Watching the Georgia Bulldogs play the TCU Horn Frogs compete in the college football national championship game was a reminder of all that is required to be an UNDISPUTED CHAMPION. Both teams came into the game as the two top-rated teams in FCS. However, only the Georgia Bulldogs emerged from the game as the UNDISPUTED CHAMPION of college football.
UNDISPUTED CHAMPIONS are rare in any sport or field in life. Think about how difficult it is to compete against competitors for an entire season and be considered the very best team by sports reporters, competitors and fans. UNDISPUTED CHAMPIONS are not perfect, in fact they may have numerous imperfections. But these champions are known as champions for their ability to work hard, stay focused on their goal, stick together as a team, overcome adversity, persevere through difficult times and pursue victory with diligence.
In this life we face many challenges that are far beyond our natural ability to overcome them. Additionally, you have a formidable opponent in the devil who hates you and is constantly devising plans and schemes to defeat you by keeping you in a state of discouragement and despair. As we experience these things, it is critical trust God, call upon Him in prayer, stand on His Word and watch Him lead you to victory. The Apostle John declared our victory "For whatever is born of God overcomes the world. And this is the victory that has overcome the world—our faith." (1 John 5:4)
There is no dispute that after Jesus died on the cross that on the third day, God the Father raised His only begotten Son Jesus from the dead. In doing so, Jesus conquered death, hell and the grave. Jesus, the risen Christ, is the ULTIMATE UNDISPUTED CHAMPION! He has conquered all things for us, no matter what we face in life. And more, He has made you more than a conqueror and you are victorious through Him!
Time to Pray!
Lord Jesus, I thank You for saving me from my sins and giving me everlasting life through my confession of faith in You. I praise You as my Savior, Lord and UNDISPUTED CHAMPION who has defeated every foe that I will face in life. No matter what challenge I face, I am victorious in You. In Jesus name, Amen!