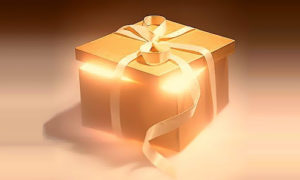 Your Gifts have Arrived!
Scripture:
Ephesians 4:7-8 "But to each one of us grace was given according to the measure of Christ's gift. Therefore He says: "When He ascended on high, He led captivity captive, And gave gifts to men."
Receiving a gifts is a beautiful thing! Whether expected or unexpected, most of us enjoy being recipients of gifts that someone took the time to purchase and give to us. Online shopping has made the process of gift giving more convenient and faster. We all know that Amazon.com is the largest online retailer and many of us shop using their many online portals. The purchasing process can be challenging at times, but there is one message that makes its all worth it: 'your gifts have arrived'.
The Apostle Paul informed the Ephesians of the arrival of spiritual gifts through Christ's sacrifice in Ephesians 4:7-8. He wrote that each believer has been given the priceless gift of grace according to the measure of Christ's gift. This glorious gift of grace is God's unconditional love for us that none of us deserve. It is God's unmerited favor that He pours out upon a person who confesses Jesus Christ as Savior. So this gift of grace is given to us freely and generously by God Himself in accordance with the measure of Christ's gift. Paul also stated that when Christ ascended, He gave (spiritual) gifts to men. These gifts were given to enable 'the saints' (you and I) to do the work of ministry in the body of Christ.
This message serves as notice that 'your gifts have arrived'. Have you received them? God has given you Jesus Christ, His indescribable gift! Through Christ you have received grace (unmerited favor) and one or more spiritual gifts. Ask the Holy Spirit to fill you and reveal your spiritual gifts so that you increase your service to the body of Christ.
It's Time to Pray: Father God, thank you for given me Jesus, the measure of His gifts of grace and the spiritual gifts that He has given to me and others believers through the body of Christ. Please reveal the spiritual gifts that you have deposited in me and teach me how to operate in them, by the power of the Holy Spirit, in the Name of Jesus. Amen!